About us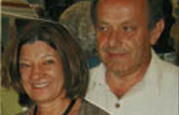 We pleased to introduce our new limited doll collection for 2016!
All of our collectible dolls have been designed, modeled, hand painted, and clothed in our studio located in the United States.
Each doll is a unique creation that you won't find anywhere else.
These dolls are exquisite in every detail; all made of the highest quality, and specially designed vinyl – like porcelain.Our dolls' faces are uniquely and individually hand painted. Handmade human hair wigs create the ultimate, one of a kind hairstyle.
We believe that the artistry behind mouth-blown glass eyes in our dolls capture the innocence of a child.
Our dolls' couture is handmade in our studio of only the finest of materials; many of the outfits are hand painted using all natural and high end accessories. The footwear is all custom designed and made to ensure the highest quality.
Each doll is signed; containing its own identity number, and comes with a certificate of authenticity.
As always we hope you enjoy our new 2016 collection as much as we enjoyed creating it!
 We look forward to hearing from you again.
                                                                             Zofia & Henry Zawieruszynski